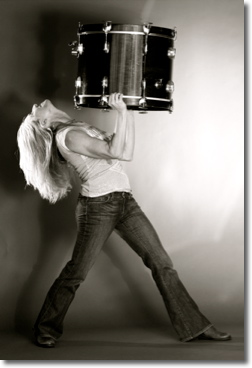 I love songs. I love the tension and release of a simple melody. I love the sparkle of lights on the drumset.
I've been in Nashville since 1992, working first with the Wooten Brothers and eventually playing on a couple of Victor Wooten's solo records…. Then two incredible original projects reminded me of the powerful creative juices inside: David Spear and the Darts, and an all-original jump swing band, Bada Bing Bada Boom. I played  from the day I arrived in Nashville, recording with many singer-songwriters, and then touring and recording with the BNA artists, The Warren Brothers. That tour peaked with being the first female drummer to ever play on Austin City Limits, in it's 25 year history!
I did a European tour with the famous blues artist, Earl Gaines, and then a Canadian tour with Sony artist Tara Hart. And ten years playing with the "Best Big Band in the Land" Pat Patrick Band Swings!
I am now staying in town (mostly) to play and record with the my own project,
The Jenerators…. Look for us at Sambuca's in the Gulch!
~~~~~~~~~         ~~~~~~~~~         ~~~~~~~~~
My piano teacher told me when I was 9 years old, that I was musical, " but not on the piano… choose another instrument". I got fired from taking piano lessons! I had rhythm, I was smart and stubborn, so drum lessons seemed the next logical choice. My teacher Pete Moreau, in my first lesson, explained that it would be very difficult for me because "you are very young, and you are a girl", and proceeded to give me 30 pages of homework for the week. Mortified, scared, and excited, I sat down with my mom and she reminded me that "there is nothing you can't do (except maybe piano)."
And so I practiced, playing through 6th grade band, a broken arm, and always the only girl in the section. In high school, All-VA Band auditions were blind… the judges couldn't see us… and I won 2nd chair in 11th grade and 1st chair in 12th grade (the 1st female EVER)… I was a rudiment/reading queen!
I continued to play at James Madison University… snare in the marching band (10 of us!!), and drumset in the big band and jazz combos. I completed my degree with a Bachelor of Music Education. After college I explored for a few years… working a sailboat in the Caribbean, playing drums on a cruise ship in Alaska, and teaching high school in Tucson…  where I stayed to complete a Master's Degree in Music Performance/Conducting at the University of Arizona. I was Dr. Gary Cook's Percussion TA, principle in the Wind Symphony and an alternate in the Tucson Symphony.
~~~~~~~       ~~~~~~~       ~~~~~~~
And so I studied my whole life, to play drums. I love being a part of the song… the part that makes people move.
I love being part of a rhythm section, working as a team, playing fair in support of the song, using my whole body to create sound,
and I love having the best seat in the house for celebrating the party that only great music can create!