THE JENERATORS
TheJenerators… We play uniquely crafted covers of your favorite songs… from Sinatra, Van Morrison, Ray Charles, Maroon 5…
Call Jen Hoeft for booking info… 615-497-3333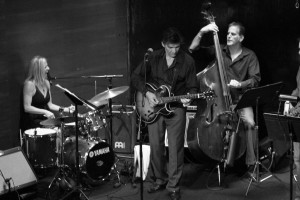 The Jenerators are a quirky, fun, groovy, musical, dynamic experience!
Perry Danos is  lead singer extraordinaire!!! His Super-Loungey Vibe mixed with the Best Voice in the World, make for a show that can't be missed!
Dan Serafini is the nutty-professor in the band. Crazy arrangements/charts and brilliantly whacky keyboard/organ…
Tom D'Angelo on upright hard-groovin', funky-as-s$%t, in-the-dog-house BASS… Bring it!
Jen Hoeft on I-Wanna-Be-Jen-Krupa Drums… :)…
And there is always a special guest star… Minnie Murphy? Wayne Avers? John England? Bryan Cumming? Jeff Jordan? Pat Buchanan? Mark Matejka? Will Barrow? Patton James? You?